Professional Custom Lawn Sign Printing in RI
Lawn signs or yard signs are made from Coroplast, which is a corrugated lightweight plastic sheet. They are highly durable and water, weather, stein, and chemical resistant. Due to their light weight they can be easily transported and placed in a location with high traffic density.  Custom lawn signs draw attention from both pedestrians and drivers and thus play a major role in marketing.  They are perfect for political campaigns, real estate marketing, community awareness, onsite events, or expos, all of which usually happen in an open area. You may get RI custom lawn sign printing services from professional screen printing companies in RI for a price significantly below what it costs for posters and boards.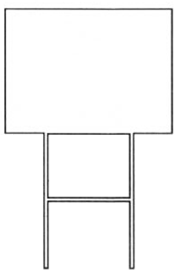 Why Coroplast?
Coroplast is a plastic sheet that can be used for creating lawn signs. It serves as a great tool for both indoor and outdoor advertising. They can be printed on either side or both and are easily customizable with different designs, colors, and styles. It is much sturdier than a corrugated fiberboard and much lighter than usually available plastic sheets. You may order a 4mm or 10mm Coroplast, in different dimensions, including 12″w x 18″h, 24″w x 18″h, 24″w x 24″h, and 36″w x 24″h.
All sizes of Coroplast signs provide plenty of landscape to add a company logo, a short message, and contact information.  Custom screen printing companies may have a team of graphic designers who will help in creating lawn signs with creative designs and attractive colors. You may further customize the lawn sign by giving punch lines about the business, product, or service, making them more appealing to your target customers.
At Innovating Printing, we provide custom lawn sign printing in RI, MA and CT, suiting your business and advertising need. We have attractive colors, single and double sided custom lawn signs, made from rigid Coroplast. They are all available with an H-stand. Due to their sturdiness and weather resistant nature, they make a great marketing tool, all year round.
These lawn signs are perfect for political campaigning. By adding a candidate's name, photo, district, and a short bio, they tend to grab great attention from prospective voters. It provides plenty of room for other sections as well, such as highlights of a party's plan for providing solutions to major issues. They can be simply placed in a yard for providing a perfect view to the public. In expos, lawn signs with attractive colors, designs, a company logo, tagline, and a product description, tend to grasp attention from customers. In community awareness programs they serve as the best tool for conveying messages and providing information.  By adding a picture, punchline, and a short message, they become the best means for meeting the end objective.
For custom lawn signs, contact Innovating Printing. We provide high quality custom lawn sign printing in RI at an affordable cost and quick turnaround. We have a dedicated team of designers who offer a great advertising experience and are capable of designing lawn signs for every purpose, including elections, exhibitions, real estate, and awareness programs. Innovative Printing provides the most durable and functional custom lawn sign printing around.